BabyFriendly Support and Training
Baby Friendly Hospital Initiative (BFHI)

MotherJourney has been working with hospitals seeking BabyFriendly status for more than a decade. We can help your facility get on track to complete and succeed in certification.

Consultation


Is your staff overwhelmed?
Don't know what to do first, or next for BFHI?


We have the solution for your facility!




Offering customized consulting services for your facility as they seek BabyFriendy status. We can come and spend several days with your management and staff and help you in each stage of the 4 D designation. Consulting services are offered either per hour or as package rates.




Sample services we can provide:

Breastfeeding Policy Development
Breastfeeding Policy Review
Auditing Services Prior to Designation
Staff Training
Grand Rounds
Staff Script Development
Physician Prenatal Curriculum Development Planning and Implementation Services

Auditing Services


Need help with audits before Designation Phase?
Our team can provide auditing services for either all or some of the areas below:


Staff Interview

Postpartum Patient Interview
Pregnant Patient Interview

We can provide audits, at your facility, to help determine your readiness for Designation. Depending on the number of staff and patients to audit, we can accomplish this in the following time period:

Staff Interviews:
1-49 staff: Full Day
50-99 Staff: 1.5 Days
100-199 Staff: 2.5 Days
200-299 Staff: 4 Days
300+: 5 Days

Postpartum Patient Interviews
<500 births: Full Day
500-999 births: 1.5 Days
1000-2499: 4 Days
2500-4999: 5 Days
5000+:7 Days

Daily or package rates available. Contact info@motherjourney.com


5 Hour Skills Lab and Check Off


Too much to do and too little time for skills labs?BFHI requires every staff member that comes in direct contact with breastfeeding mothers and

babies to demonstrate 5 hours of competencies in BabyFriendly breastfeeding support skills. Let MotherJourney take care of this for your facility. We can offer skills labs over a course of several days, for both day and night shift staff. We will provide the requisite training and allow staff to demonstrate their knowledge during the skills competencies. We will provide detailed documentation as proof of staff competency for your BFHI paperwork.




Contact MotherJourney for details and prices.

info@motherjourney.com
BFHI Staff Introduction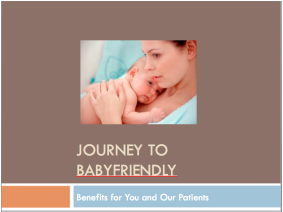 This program can be offered both online or in person.
Offered as either a 1, 1.5, or 2 hour program that will be customized for your facility, based on your facilities breastfeeding policy and programs.

Objectives Include:
Define BabyFriendly as it relates to your hospital.
Identify at least three reasons why breastfeeding exclusivity is important to the newborn.
Identify the Ten Steps.
Discover at least one way that BabyFriendly practices can make your job easier.
Discover at least two ways that BabyFriendly practices improve the breastfeeding relationship.
Course cost is dependent on whether your facility needs an in person or online program and the number of participants. Course fees can be as little as $5 per participant.
---
Grand Rounds and Physician BFHI Education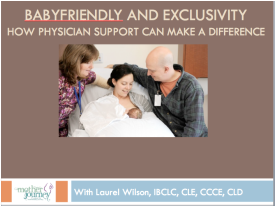 This course can be offered in person or online in a 1, 1.5, 2, or 3 hour program. The course will be customized for your physicians needs, based on your facilities breastfeeding policy and programs.
Typical topics include:
•What to expect with BFHI
•Importance of exclusive breastfeeding •Risks of supplementation
•Epigenetics and breastmilk
•Importance of the first 72 hours
•Low milk supply
•Physician support - education

Course cost is dependent on whether your facility needs an in person or online program and the number of participants. Course fees can be as little as $500 per hour for in person instruction. We can provide complete information for any facility seeking CME's.

Feedback:
"I felt forced to be here as a physician. I thought I knew enough about breastfeeding and was grumbling even as I entered the classroom. However, you changed my attitude. I am excited about this Babyfriendly program and excited to be a part of it. I am volunteering for the Steering Committee tomorrow." Physician at University of Colorado Hospital

"Thank for your presentation. I learned more in one hour with you than I have learned entirely about breastfeeding as a physician, plus I have two children!" Physician at Aurora Medical Center

---
15/20 Hour Staff BFHI Training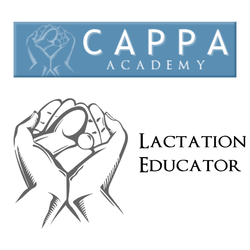 We offer the 20 Hour Lactation Educator Course or 15 Hour Community Lactation Educator Course for facilities seeking BFHI status. These are 2-3 day in person trainings that meet the qualifications for staff training with BFHI. These courses not only meet the qualifications for BFHI, but also allow your staff to continue on and seek certification as a CLE or LE(C) with CAPPA. Offering 21.5 L-Cerps through the IBLCE and 24 CAPPA Contact Hours. Course costs start at $450 per person, but can be as low as $275 per person dependent on how many days and how many people your facility is putting through the training. For more information
click here.
---