Looking For a Speaker?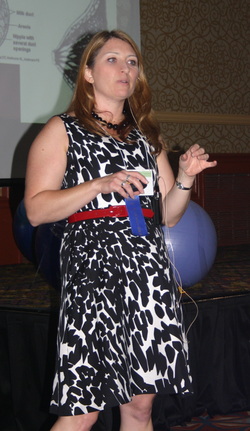 You can bring Laurel to your conference, workshop, or community center. Experience university quality education, interactive sessions, evidence based information and humor. Laurel has more than fifteen years of experience as a public speaker and is comfortable in both large auditoriums or in small intimate settings. Below is just a sampling of topics available. To get a more complete list, email us for a proposal.
Understanding the Baby Friendly Hospital Initiative:
Research, Implementation and Value

History of the BFHI, Research on the BFHI

Joint Commission and Exclusive BF

Process for Becoming BabyFriendly

Helpful Tools

The Impact of Social Media on Mothers During Lactation
The Millennial Mother Habits and Behaviors

Messaging and Marketing with Social Media

Formula Companies and Social Media

Breastfeeding Orgs/Movement and Social Media

Ethics of Social Media as HCPs

Marijuana and Breastfeeding
Types of Marijuana and Consumption

The Endocannabinoid System

THC and CBD and the Developing Baby

Current Research

Using Three Part Counseling

Topical Treatments for Sore Nipples, What the Evidence Really Says
Causes of Sore Nipples

Common Topical Treatment

Review of Research around Treatments

Current Recommended Practice

There Is More than One Way to Breastfeed a Baby - Traditional Positioning and Baby Led Latch
Biology and the Physiology of Breastfeeding

Basics of Asymmetrical Latch

Baby's Reflexes and the Relationship with Baby Led Latch

Facilitating Baby Led Latch in the Hospital

Nutrition and Breastfeeding - Is Your Baby What You Eat?
The Epigenome and the Genome

The Impact of Nutrition on the Epigenome

Nutritional Recommendations for Breastfeeding Women

Development of Baby's Palate

Breastmilk and the Immune System

Is Maternal Nutritional Supplementation Necessary During Breastfeeding

Success in Early Postpartum
Managing Lactation Challenges

Causes and Current Evidence-Based Practice for Sore Nipples

Thrush

Edema/Engorgement

Mastitis and Plugged Ducts

Mind What You Say - Using Mindfulness and Three Part Lactation Counseling for Breastfeeding Success
What Is Mindfulness

Mindfulness Based Counseling

Steps to Three Part Counseling

Importance of Listening

Advice vs. Informed Consent

---
Visit my LactSpeak Site


---
"It was a pleasure to work with Laurel on our Supportive Communities Breastfeeding Grant. She provided excellent evidenced-based breastfeeding in-services for child care providers, health care providers, WIC staff and public health professionals. She utilized social media and websites to promote the in-services. She worked very efficiently and competently. I would highly recommend Laurel for her innovative teaching techniques and cutting edge breastfeeding knowledge." ~Ingrid Rosoff, Larimer County WIC

"Thank you so much for coming to the Baby Friendly conference last week and for missing your thanksgiving, it was really good of you. Your presentation was awe inspiring and the most talked about of the conference. It feels like a game changer for us in the UK and everyone is eager to hear more on the topic." Sue Ashmore, Programme Director, UNICEF BabyFriendly UK


Gold Conference Sessions 2014
An excellent presentation. Thank you Laurel. Good summary of the risks of FF as well as milk sharing. I will be able to use it to better inform mothers. - Attendee

Amazing presentation - so fascinating. Thank you Laurel and the Gold team! - Attendee

Thank you! So fascinating. Want to repeat this one. - Attendee

Thank you for a fascinating and very clear presentation! - Attendee


Look and Listen
---
Upcoming and Past Presentations
Upcoming
ILCA Conference - Washington, DC July 2015
Georgia Public Health Presentation, August 2015
Atlantic Health NJ Lactation Consultants, October 2015
JIA La Leche League Summit Paris, April 2016
Recent

November 2014 UNICEF Conference, England - Breastfeeding and Epigenetics
Women's Services Conference at Aurora Medical - Solving Common Breastfeeding Challenges
September 2014 ICEA Conference, Asheville, NC - Beyond the Birth Plan
July 2014 Birth to Three Conference, Washington, DC - Breastfeeding, Epigenetics, and Brain Development
July 2014 CAPPA Conference, Charlotte, NC - So You Want to Be An Author
June 2014 Vail Valley Hospital Glenwood Springs, CO - Breastfeeding, Obesity and BFHI and Biological Nurturing and Skin to Skin
June 2014 Postpartum Support International Conference - Epigenetics and Breastfeeding -The Potential Impact on Postpartum Mood Disorders
June 2012 House of Doula Conference, Castle Rock, CO - Epigenetics and Scope of Practice
May 2014 Birthing Bonding and Breastfeeding Conference, Palm Springs, CA - The Science of Prenatal Attachment
Cedar Rapids, IA March 2014 Keynote Speaker Unity Point Maternal Child Nurse Conference
Cedar Raids, IA March, 2014 Lactation Professional Practice Update
Cedar Rapids, IA March 2014 20 Hour Lactation Educator Course
Netcong, NJ Jan 25 The Science of the MotherBaby Bond
CAPPA October 2013 - Rethinking the Birth Plan: Paradigm Shifting for Birth Professionals
ILCA/Australia July 2013 - Epigenetics and Breastfeeding
ACNM - May 2013 Epigenetics and Nutrition
Science of Mother Baby Bond, Lullaby Lounge, CA Jan 18, 2013
Colorado Doulas Association Annual Conference - The Science of the Mother Baby Bond, November, 2012
Rose Medical Center Women's and Children's Conference- Using Biology as a Basis for Best Breastfeeding Practice In Early Postpartum: Skin to Skin and Laid Back Breastfeeding, Oct 2012
ILCA Side Presentation - How InJoy Can Help Your Facility Meet the BFHI July 2012
CAPPA - Bridging the Nutrition Gap - The Role of Epigenetics and Prenatal Nutrition July 2012
AWHONN - The Role of Epigenetics and Stress in Pregnancy, June 2012
CNM Conference - The Science of the MotherBaby Bond, May 2012.
InJoy Podcast Using Mindfulness and Prenatal Yoga for Pregnancy, Birth and Parenting, August 2012
AWHONN Armed Forces Conference, July 2011 "Solving Nipple Trauma: What the Research Says"